We're Experienced Home Insulation Installers
Did you know you can lose up to 25% of your home's energy due to inadequate insulation in your roof or attic? Many homes are under-insulated and do not meet current code requirements. Adding insulation to an attic is the easiest and most cost-effective way to improve energy efficiency and reduce utility bills.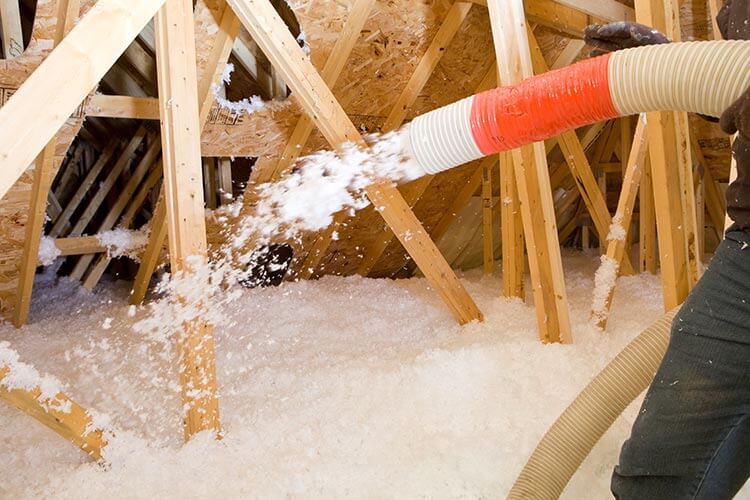 Investing in blown-in loose-fill fiberglass insulation or blown-in loose cellulose insulation from Roof-Rite, Inc will ensure that your home is insulated properly. There are also a variety of government incentives available to help you offset your investment, so contact us today for more information and a free quote!
Why We Recommend Blown-In Home Insulation
Installing thermally efficient fiberglass or cellulose insulation is one of the most cost-effective energy conservation measures you can take because it's blown-in, and it covers every nook and cranny in your attic. It is quick, clean and easily installed right over your current attic insulation.
Our Insulation Meets or Exceeds Standard R-Values
The recommended R-Value for attic insulation is R-38 and when you hire us to install your upgraded insulation, we make sure it meets that standard. R-Values reflect the ability of insulation to resist the flow of heat, out of a home in the winter and into the home in the summer. The higher the R-Value, the greater the insulating power and potential energy savings. A higher R-Value also ensures a more comfortable environment by maintaining an optimal temperature range in the home.
Are Your Roof Vents Free & Clear? If Not, We Can Help!
We also install baffles at every truss to allow intake ventilation to flow in through the eaves at each intake vent. If these vents are covered, moisture and condensation may occur. Equally important is exhaust ventilation that we will install when replacing your roof.
Go Green! Go Safe! Save Money!
All of the products we use are made up of mostly recycled products. The fiberglass insulation is primarily made up of recycled plastics and the cellulose of recycled paper. They are both specially treated for fire resistance.
Contact Us Today for an Insulation Quote
Interested in saving money? Request a quote for upgraded home insulation from Roof-Rite, Inc. We've been in business since 1999, and our contractors stand ready to help you with your insulation project. Call (248) 668-9151 or fill out the online form today!